September 30, 2016 – Springfield, MO – Brewer Science, in cooperation with the Springfield Regional Arts Council and Arts Rolla, will host an exhibit featuring original art and photography at The Creamery Arts Center during the month of October. "Pure Enjoyment," a juried exhibit, will feature 103 works of original art from 41 artists representing 22 different cities and two states.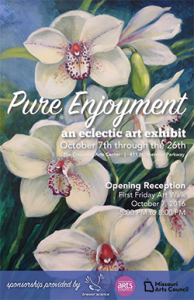 The public is invited to attend the opening reception, which is a part of the First Friday Art Walk on October 7. The Creamery Arts Center, located at 411 N. Sherman Parkway, Springfield, MO, is an Early Bird Venue, with the reception scheduled between the hours of 5:00 pm and 8:00 pm. The opening reception will include music by Jin J. X between the hours of 5:00 pm and 7:00 pm.
This year's artwork was juried by Denene Taliaferro from Springfield, MO. Selected artwork will be exhibited from October 7 through October 26, Monday through Friday from 9:00 am to 5:00 pm, and Saturday from 10:00 am to 4:00 pm.
One of this exhibit's unique qualities is its display of an eclectic mixture of artwork. Representing a variety of communities, artists selected for the Pure Enjoyment exhibit include Illinois artists Steven Schroeder (Chicago) and Nancy Silver (Huntley). Missouri artists include JoEllen Adams (Branson); Dianne Baum (Crane); Julie Brand, Shelly Smith Steiger (Cuba); William Oberholtzer (Dixon); Susan Neese, Dee Ann Zirschky (Fair Grove); Pat Lambert (Hollister); Lanie Frick (Licking); Roberto Regalado, Linda Spencer (Long Lane); Ann Marie Rausch (Monnett); Jennifer Larkin (Newburg); Wayne Doornbosch (Osage Beach); Sophia deLaat (Raymondville); Robert Kraft, Gerry Toler (Republic); Lori Decker (Rogersville); Jerry Jurgens, (Rolla); Nancy Brown Dornan, Roxie Castro, Marian Chamberlain, Lea Dingman, Dora Elliott, Margaret Grooms, Michael Kornblum, Dawna Middleton, Mari Moore-Mosby, Linda Passeri, Cindy Quayle, Eric Ray, Kimberly Salsman, Susie Sharp, Mark Shipley, Christie Snelson, Allen St-Onge, Bonnie Waterman (Springfield); Gini Gaunt (St. James); Gary Cadwallader (Warrensburg); Alan O'Neal (Willard); and Gail Rowley (Willow Springs).
You can learn more about Brewer Science at www.brewerscience.com, follow us on Twitter at @BrewerScience, like us on Facebook at http://www.facebook.com/BrewerScience, and subscribe to our blog.
About Brewer Science – Celebrating 35 Years
Brewer Science is a global technology leader in developing and manufacturing innovative materials, processes, and equipment for the fabrication of semiconductors and microelectronic devices. With its headquarters in Rolla, Missouri, Brewer Science supports customers throughout the world with a service and distribution network in North America, Europe, and Asia. Brewer Science has earned the Zero-Waste-to-Landfill certification from GreenCircle Certification LLC. We're prepared for the next generation. Are you? Find out at http://www.brewerscience.com.
About the Springfield Regional Arts Council (SRAC)
The Springfield Regional Arts Council (SRAC) connects people and the arts. We support some of the most prominent visual, performing, literary and film/media arts organizations within 27 counties, the largest outreach of any in the state of Missouri.
About Arts Rolla
Arts Rolla is a regional not-for-profit organization founded in 1985. Arts Rolla brings art and communities together by supporting and growing visual, literary, and performing arts. In addition to the visual arts, Arts Rolla encourages the performing arts and, with the support of the Missouri Arts Council and Brewer Science, facilitates the Peaceful Bend Wine Cellar Concert each year. Arts Rolla, with the support of Missouri S&T, also encourages the literary arts with events such as PoetSpeak and writing competitions. Please visit www.artsrolla.org or call 573-364-5539 for more information.
If you would like more information about this topic, please contact:
Contact information:
M. Loretta Wallis
Corporate Relations Manager
Brewer Science
+1.573.364.0300, Ext: 1357
mwallis@brewerscience.com