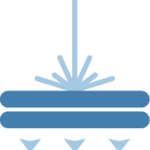 Market Sectors
Silicon interposer as bridge technology to initiate 3-D packaging
eWLB (FIWLP & FOWLP)
Memory
Compound semiconductor
Laser Release Method
Distinctive characteristics of the laser release method:
Maximum throughput of up to 50 wafers per hour
Ability to withstand back-end process temperatures up to <350°C.
Low-stress release, making it suitable for all production environments
Release upon excimer laser exposure - no force used
Ideal for high-volume production
Cleaning
*Coating can be removed by an oxidizing plasma or an oxidizing solvent stripping process such as ozone plasma stripping, Piranha® solution, or RCA cleaning.
BrewerBOND® 701 material is the most versatile excimer laser release material due to its ability to handle a variety of stress applications. Its typical thickness is 150-250 nm, and the material is thermally stable up to 350°C. The material is used with a transparent carrier and can be debonded at 308-nm or 355-nm laser wavelengths. BrewerBOND® 701 material can be removed with solvent prior to cure for rework. When using the laser debond process, this material is suitable for all production environments due to its high throughput and no-stress separation.
Benefits
Compatible with high-temperature backside processing ≤ 400°C
Compatibility with various wavelengths (248nm, 308nm, 343nm, and 355nm)
Enables no-stress separation from carrier at room temperature
Enables alternative processes including selective debonding when used
with other release layers
Enables rapid debonding with laser equipment
Limited thermal contribution because it works with either solid state or excimer laser at lower wavelengths
The laser release maximum throughput makes it a good choice for high-volume production goals. This method works for all production environments.