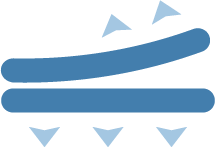 Specific Market Segments
Mechanical Release Layer Compatibility
BrewerBOND® 530 material is most compatible with the following Brewer Science Bonding Materials:
BrewerBOND® 530 material is a mechanical debonding release material that has been specifically designed for maximum performance with all of the temporary adhesives utilized for mechanical release. It is compatible with all external equipment manufacturers and mechanical release systems.
Why BrewerBOND® 530 material?
BrewerBOND® 530 material offers to our customers and partners the capability of easy rework/reuse of carrier wafers as it is solvent removable. This material is compatible with the entire adhesive portfolio offering by Brewer Science for temporary bonding and debonding.
Mechanical Debonding Release Material Benefits
Compatible with 250°C - 300°C bonding materials
Simple application on carrier substrate
Lower cost of ownership with carrier substrate reuse
Carrier substrate rework by solvent clean, RCA clean, or
ash
Low-force separation