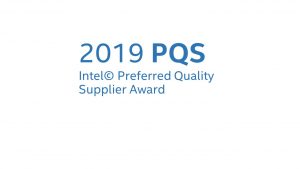 Rolla, Missouri, March 5, 2020 – Brewer Science has been recognized by Intel as a recipient of a 2019 Preferred Quality Supplier (PQS) Award. The PQS Award recognizes companies like Brewer Science that Intel believes have relentlessly pursued excellence and conducted business with resolute professionalism.
"I am pleased to recognize the winners of Intel's Preferred Quality Supplier Award for 2019," said Dr. Randhir Thakur, head of Global Supply Chain at Intel. "The commitment to continuous improvement and the rich collaboration with these suppliers remain crucial factors in enabling Intel to bring exciting products to market and meet the needs of our customers."
Additional information is available at the Intel Newsroom.
About Brewer Science
Brewer Science is a global leader in developing and manufacturing next-generation materials and processes that foster the technology needed for tomorrow. Since 1981, we've expanded our technology portfolio within advanced lithography, advanced packaging, and printed electronics to enable cutting-edge microdevices and unique monitoring systems for industrial, environmental, and air applications. Our relationship-focused approach provides outcomes that facilitate and deliver critical information. Our headquarters are in Rolla, Missouri, with customer support throughout the world. We invite you to learn more about Brewer Science at www.brewerscience.com.
Company Contact:
Nick Skelton
Tel: (US) +1.573.364.0300, ext. 1249
Email: nskelton@brewerscience.com