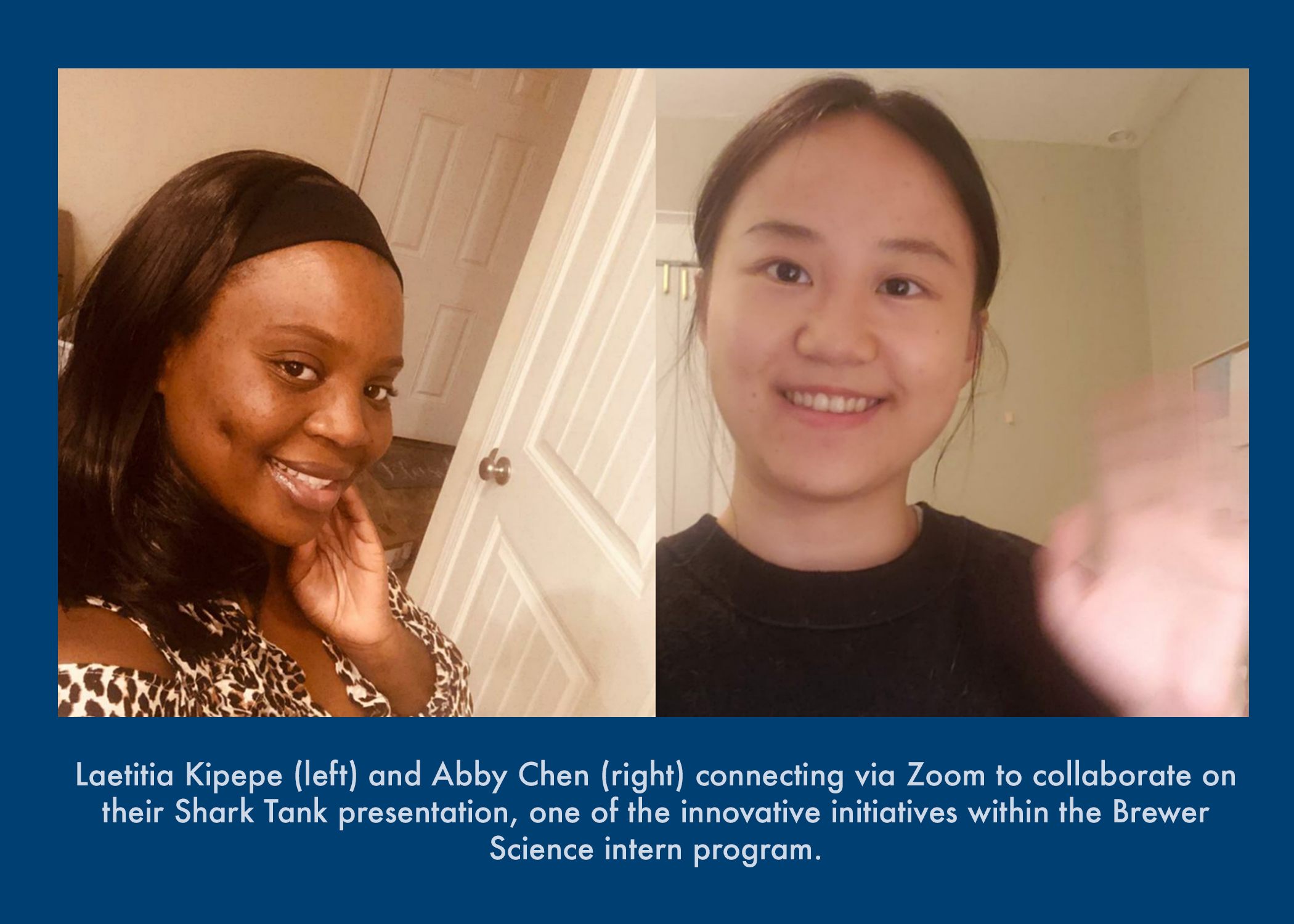 From hire to retire, Brewer Science's culture starts early in our intern program. The intern experience at Brewer Science is one of the facets of the company that makes it different from other companies. Dr. Brewer founded Brewer Science with the intent to focus on people, and this is evident all throughout the company, even with the students who start their professional journey at one of the Brewer Science offices across the globe. In fact, 74% of eligible interns at Brewer Science accept full-time positions at the company. Currently, there are 20 full time employees that started as interns, and that's just looking at interns within the last 3 years! We asked a few members of the intern class of 2020 to share their experiences so far, especially considering the extraordinary circumstances we face amidst the COVID 19 pandemic.
Interns were invited to participate in an exciting event called "Shark Tank," challenging their innovation and problem-solving skills. Loretta Wallis, the Corporate Education STEM Manager at Brewer Science, has participated as a judge in the event for seven years, and this year was the first year she led the event. She mentions this year was atypical since the COVID-19 pandemic restricted the interns to virtual presentations, rather than the in-person presentations they have traditionally done. This also resulted in fewer interns participating in the Shark Tank event this year; of the twenty interns at Brewer Science this year, only a few participated in the Shark Tank event. Loretta attributes the lower attendance to the fact that interns did not have time to be face-to-face together and form a sense of camaraderie while being remote. However, Jessica Ambrose, a Chemical Engineering major at University of Missouri Science and Technology, remarks that starting a job right when the COVID-19 pandemic was starting was challenging. Ambrose was thankful for this Shark Tank event as it made her feel more a part of the group, and "fill in the gaps" of working remote. Nonetheless, the event provided the interns a chance to share creative ideas and think through the process of taking an idea and developing it into a product.
Ambros

e, winner of the Shark Tank event this year, presented a product idea that she thought about a year ago. She explains that the idea came about when she realized the damage she was doing to her laptop charger by continually rolling it up and unrolling it when traveling. She searched for a self-winding type of mechanism that would allow her to preserve the integrity of her cord and couldn't find one! She enthusiastically presented the concept of a self-winding AC adapter to the judges, all of who are Brewer Science employees. She was pleased with the feedback the judges provided, "They were able to bring in perspectives focusing on the mechanism and design – something I lack experience in;

getting input from the professionals helped my idea!" explains Ambrose.
Abby Chen, a Business Analytics major at Washington University teamed up with Laetitia Kipepe, a Chemical Engineering major at West Virginia University and started the process with thinking about an experience on which they could improve. Chen said the brainstorming process with Kipepe was one of her favorite aspects, and they agreed a more sensory experience, like sense of smell, while watching movies would be a neat idea. "The entire experience was very memorable. I enjoyed presenting the idea to the judges because they provided me with insight I did not think about. For example they asked me to consider a testing process I would go through to ensure the item was safe for people who have allergies to certain perfumes," remarks Chen. She is one of the non-STEM majors interning this year and learned about the opportunity through a Career Fair at Washington University. Chen encourages other students to look into interning at Brewer Science. "It's an opportunity to immerse yourself as a student and be a part of an innovative company that is the future of technology," states Chen. Lastly, Nathan Hall, currently pursuing a Master's in Data Science at Missouri
The Shark Tank event is just one example of how Brewer Science engages the interns to learn and promote innovation. Angela Femmer, Director of Competitive Positioning and a judge for this year's Shark tank event remarks, "This was a unique way to connect with our interns and learn more about their capabilities, outside of their normal roles. For many, this was the first time they delivered something like this. I thoroughly enjoyed their presentations, as each utilized a unique method to deliver the outcome. T

his also enabled the judges to provide feedback to help each intern grow. I hope everyone learned as much as I did from participating." Aside from the Shark Tank event, Brewer Science offers interns the opportunity to learn about their chosen field while also providing a flexible schedule around school. "I get the most out of school when I am applying it directly to work. One of the things I love about Brewer Science is how flexible the company is with school schedules and overall pursuing learning opportunities. I aspire to work full time with Brewer Science while continuing to grad school to continue to grow as an engineer and person." states Ambrose.
The Brewer Science intern program is international, offering opportunities for STEM and non-STEM majors across the globe! To learn more about how you or your students can intern at Brewer Science, please visit the Brewer Science Career Page.

brewer science, Internships, STEM Jobs