Celebrating Community through Giving in 2022
Brewer Science employees support the community in many ways
One of the ways Brewer Science inspires cutting-edge innovation is by empowering employees to open their minds – and their hearts. When you walk in the doors of any of Brewer Science's ten offices, you are welcomed with a company culture unmatched in the industry. Everyone is driven to do better, not just for themselves or even just for the technology, but for the various communities and causes we serve. We are elated to serve our community in many ways, including volunteering, donating, and fundraising.
Community Service Program
While volunteering and community service have been an essential part of company culture since its establishment, 2022 marks a significant achievement in a company policy change, allocating each full-time employee 40 hours to perform selfless acts in their community. Within the first year of rolling out this new initiative, already 60 employees used the opportunity to contribute 1,931 hours of community service serving 88 unique causes, including environment, education, children, animals, and homelessness.
Daniel Padilla, Research Associate at Brewer Science, used his community service hours to perform hands-on STEM experiments at local schools.
"I think it is vital for young children to be exposed to science, and I want to do my part in helping inspire the next generation of scientists. The child-like awe of the natural world seems to wane as people grow older, and I want to do what I can to maintain this feeling of wonder and curiosity. I did three chemical reactions for Truman Elementary's special education pre-K class, and I was also able to show some older students the reactions as well. It was a wonderful experience; I hope to repeat this at many more schools in the area. I am glad I can work at a place like Brewer Science that not only allows their employees to do things like this but encourages us to do this via things like community service leave."

 – Daniel Padilla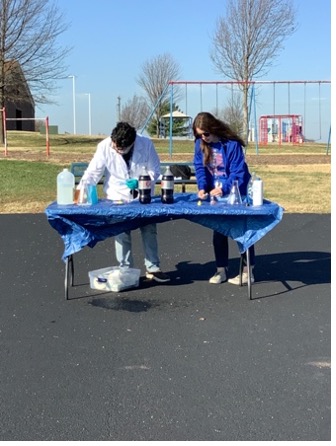 Celebrating Employee Anniversaries with Charitable Donations
In celebration of employment anniversary milestones, Brewer Science provides a monetary donation per year of service to the charity of the employee's choice. Eleven employees celebrated milestone anniversaries this year, donating $28,750 to their selected causes ranging from Doctors without Borders to St. Jude's Children's Hospital, churches, and community partnerships.
Barbara Welch selected St. Jude's Children's Hospital and was touched by the impact her contribution made.
"Thank you for your amazing gift to St. Jude Children's Research Hospital. Eleanor's family is so thankful for generosity like yours that helps make St. Jude a place where hope lives. Her dad said, 'I cannot imagine what life after treatment would be like if we were worrying about bills from St. Jude. I'm sure we'd need second jobs…. And then that's more time away from her.' Today, Eleanor and her family live the "life after treatment" they had dreamed of. Eleanor is cancer-free and back home, where she belongs. Donors like you make a difference in the fight against childhood cancer."  

– Martin Hand, Chief Donor Officer at St. Jude's Children's Research Hospital
Fundraisers and Food Drives
Brewer Science employees frequently take ownership of organizing community fundraisers, street clean-ups, and food drives. This sense of ownership comes not only from being a Certified Employee-Owned company but also from the sense of pride they have in the company mission's focusing on community impact. In 2022, employees led ten fundraisers, two food drives, and two animal shelter donation drives.
"Many people think about giving to people or organizations, but animals have always had a special place in my heart." states Dr. Lori Calderas, Industrial Hygienist, "Thanks to the generosity of the kind hearts at Brewer Science, we have delivered at least 2 Jeep-loads of food, beds, toys, and other needed supplies to the Rolla Animal Shelter each year for the past three years."
Corporate Donations
Brewer Science proudly supported 45 organizations in 2022. The organizations were selected based on alignment with our company values and mission, including STEM education, arts, and sustainability. Our employees participate in the selection process, nominating causes they are most passionate about. We make a global impact with ten international offices while strengthening the communities we serve.
Brewer Science teamed up with the Rolla Robotics Team to fundraise for the Phil Allen Memorial Robotics Scholarship, awarded to Rolla Technical Institute & Center students.
Brewer Science is excited to have participated in a wide range of community impact areas. We wouldn't have been able to serve our community as much without employees carrying out the company mission and being a part of the community causes. Being recognized as a 2022 National Top Workplace is a testament that employees enjoy being a part of a company culture that emphasizes compassion and community engagement.
To learn more about Brewer Science's company culture or community impact, you can visit our website or follow us on social media.