Rolla, Mo.– June 11, 2019– Brewer Science is honored to have been awarded a 2019 Top Workplace honor by the St. Louis Post-Dispatch.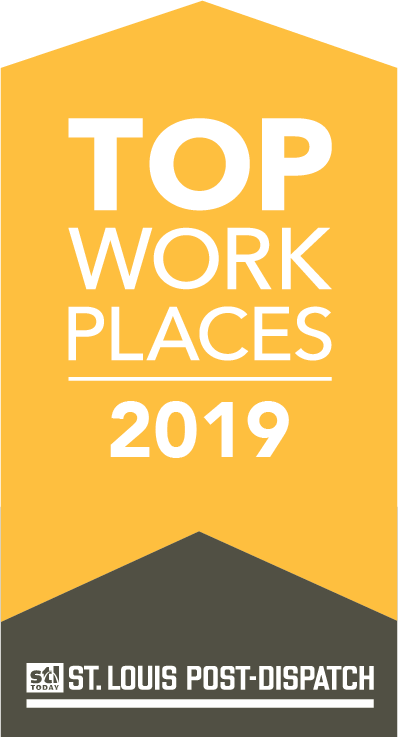 Energage, LLC, an employee research and consulting firm, has partnered with the St. Louis Post-Dispatch for the past seven years to determine top workplaces in the area based on anonymous employee survey feedback. Companies on the Top Workplace list demonstrate strong values, effective leadership, clear direction and motivated employees.
"Becoming a Top Workplace isn't something organizations can buy," said Doug Claffey, CEO of Energage. "It's an achievement organizations have to work for."
The employee surveys gather responses on several topics regarding their company, such as alignment with company values, manager relationships, confidence in company leadership and other basic information like benefits and pay. From the 209 organizations that took the survey, 150 employers were recognized on the Top Workplace list. A full list of this year's award listings can be found here: https://graphics.stltoday.com/apps/workplaces-2019/
Brewer Science is committed to being a company of the people, by the technology and for the customer. Under Dr. Terry Brewer's leadership, Brewer Science's dedication to inspiring innovation creates an environment for employees to think differently, continue pursuing knowledge and learning and keep creating technology that changes the world.
"Our employees are our most valuable asset and receiving an award focusing on employee satisfaction is a great achievement," said Alan Gerson, Executive Director, Human Resources. "There are a lot of great St. Louis–area companies that made this list. Brewer Science is excited to join with these companies to facilitate talented employees remaining with and committing to outstanding St. Louis–area workplaces."
Employees are given opportunities to grow personally and professionally through career development trainings, health and wellness plans, community events and other programs. The St. Louis Post-Dispatch has previously recognized Brewer Science as a Top Workplace in 2012, 2013, 2015, 2017, and 2018.
About Brewer Science
Brewer Science is a global technology leader in developing and manufacturing innovative materials and processes for the reliable fabrication of cutting-edge microdevices used in electronics such as tablet computers, smartphones, digital cameras, televisions, LED lighting and flexible technology products. In 1981, Brewer Science revolutionized lithography processes with its invention of ARC® materials. Today, Brewer Science continues to expand its technology portfolio to include products enabling advanced lithography, thin wafer handling, 3D integration, chemical and mechanical device protection and products based on nanotechnology. With its headquarters in Rolla, Missouri, Brewer Science supports customers throughout the world with a service and distribution network in North America, Europe and Asia. We invite you to learn more about Brewer Science at www.brewerscience.com, follow us on Twitter and like us on Facebook.
###
Company Contact:
Nick Skelton
Tel: (US) +1.573.364.0444, Ext. 1249
Email: nskelton@brewerscience.com
Top Workplaces, 2019, brewer science