October 13, 2016 – Rolla, MO – When Brewer Science shared the achievement of earning Zero Waste to Landfill Certification in early 2016, it was noteworthy. The commitment to a robust environmental management system, with the objective of preventing pollution of the environment is a part of the Brewer Science brand.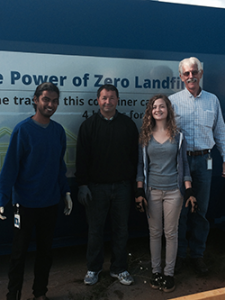 (L to R) Paul Robin, Stephane Menard, Jillian Hunt, Rory McCarthy
So, when committee members leading Missouri University of Science and Technology's Celebration of Nations came to Brewer Science to turn the Celebration of Nations into a sustainable zero-waste-to-landfill event, the team at Brewer Science provided support. This collaboration included the Center for Sustainability at Missouri S&T, Eco-Miners, Rolla Recycling Center and Brewer Science.
The Celebration of Nations is Rolla's largest multicultural event, with music, dancing, ethnic food, arts, crafts and displays. Residents and Missouri S&T students showcase and celebrate the vibrant cultural diversity found in the region as the community comes together to learn and share.
This year the Celebration of Nations was a success on many levels and the approximately 1,300 pounds of refuse generated from the event were placed in "Big Blue," a large compactor located on the campus of Brewer Science. The compactor prevents tons of waste materials from going to the landfill each year. Waste in "Big Blue" is taken to a Covanta waste-to-energy facility where the waste is combusted to produce steam and electricity. The Eco Miners from the Missouri S&T's Center for Sustainability coordinated with the City of Rolla to collect, weigh, and transport the refuse.
Brewer Science has a long history of being committed to responsible waste management, as well as a continued a partnership with the community by helping stakeholders properly dispose of waste.
We invite you to follow our commitment to the environment by viewing our Annual Health, Safety, Security, and Environmental Policy Report located on our website at http://www.brewerscience.com/about-us/company/safety/.
Learn more about Brewer Science at www.brewerscience.com, follow us on Twitter at @BrewerScience, like us on Facebook, and subscribe to our blog at http://info.brewerscience.com/blog.
About Brewer Science – Celebrating 35 Years
Brewer Science is a global technology leader in developing and manufacturing innovative materials, processes, and equipment for the fabrication of semiconductors and microelectronic devices. With its headquarters in Rolla, Missouri, Brewer Science supports customers throughout the world with a service and distribution network in North America, Europe, and Asia. Brewer Science has earned the Zero-Waste-to Landfill certification from GreenCircle Certification LLC. Brewer Science is prepared for the next generation. Are you? Find out at http://www.brewerscience.com.
For more information, contact:
Loretta Wallis
Corporate Relations Manager
Brewer Science
+1.573.364.0300
mwallis@brewerscience.com