July 5, 2017 – Rolla, Missouri – For the fourth time, Brewer Science has been listed by the St. Louis Post-Dispatch as one of the top Midsize Workplaces. The company also was recognized as a Top Workplace in 2012, 2013 and 2015 by the St. Louis Post-Dispatch and received an honorable mention in 2016.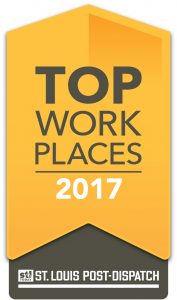 Based on survey responses, the St. Louis Post-Dispatch named 120 area employers as Top Workplaces for 2017. Demonstrating excellence in values, leadership, motivated employees and culture, Brewer Science ranked number 35 as a Top Workplace for midsized companies. Brewer Science also received high ratings for alignment, execution and connection.
Dr. Terry Brewer is founder and President of Brewer Science, headquartered in Rolla, Missouri. Brewer Science has a unique business model, one that extends beyond product creation and development to the creation of an environment that inspires and enables the cycle of perpetuating the ability and desire to be innovative. Under Dr. Brewer's leadership, Brewer Science has grown to be an international company with a global network of people providing superior products, support, and service.
A full list of the top midsize workplaces is available at http://graphics.stltoday.com/apps/workplaces/
Learn more about Brewer Science at www.brewerscience.com, follow us on Twitter at @BrewerScience, like us on Facebook at http://www.facebook.com/BrewerScience, and subscribe to our blog at http://blog.brewerscience.com.
About Brewer Science
Brewer Science is a global technology leader in developing and manufacturing innovative materials, and processes for the fabrication of semiconductors and microelectronic devices. With its headquarters in Rolla, Missouri, Brewer Science supports customers throughout the world with a service and distribution network in North America, Europe, and Asia. Learn more at http://www.brewerscience.com.
For more information, contact:
Loretta Wallis
Corporate Relations Manager
Brewer Science
+1.573.364.0300
mwallis@brewerscience.com