December 6-9, 2017
Singapore, Grand Copthorne Waterfront Hotel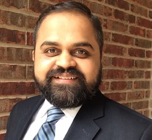 December 6-9, 2017
Singapore, Grand Copthorne Waterfront Hotel
Brewer Science's Ram Trichur, Business Development Director, to present an invited talk at EPTC:
Invited-08: Temporary Bonding Materials for Fan-out Packaging Processes
Location: Swallow Room
Friday, December 8, 2017
8:30-9:00 am
Ram is also moderating the Material and Processing session:
Session: S-09, Material and Processing
Location: Lyrebird Room
Thursday, December 7, 2017
2:00-3:20 pm
About EPTC:
The 19th Electronics Packaging Technology Conference (EPTC 2017) is an international event organized by the IEEE Reliability/CPMT/ED Singapore Chapter and sponsored by IEEE CPMT Society.
EPTC has developed into a highly reputed electronics packaging conference in Asia and is well attended by experts in all aspects related to packaging technology from all over the world. EPTC is the leading flagship conference of IEEE CPMT Society.
For more information: Conference Website
Schedule a time to meet at the conference or ask a question about a featured product:
2017, EPTC