24 June 2.00pm - 7.00pm CET
Virtual

---
Brewer Science is exhibiting at the
Innovations Festival:
Printed, Hybrid, 3D, InMold, Textile Electronics
The Largest Online Gathering of the Printed Electronics Community
---
24 June | 2.00pm – 7.00pm CET
This must-attend Innovations Festival showcases exciting and cutting-edge advances from across the world. In a unique format, speakers will present their latest advances and innovations in compact technology-focused 5-min talks. Participants can then visit the speakers in their virtual speaker corner or at their virtual booth.

This is a truly unique gathering in our special 'in-person virtual' platform making virtual interaction real and enabling spontaneous discussions, serendipitous meetings, and excellent networking.

Topics Covered:
R2R Nanolithography | Nano-Scale Wafer Printing | Smart Skin Patches | 3D Touch Surfaces | Quantum Dots | Stretchable Liquid Metal Inks | Jet Metallization | Laser Induced Forward Transfer | Fuel Cells | Printed Batteries | Organic Photovoltaics | R2R PCB Production | Hybrid Circuits | 3D Electronics | InMold Electronics | Smart Surfaces | Ultra Fine Line Printing | Novel Interconnect Technology | E-Textiles | Printed Displays | Printed Sensors | Printed Sensors | Innovative Paste Technologies | Smart Packaging | Additively Manufactured Electronics | OTFTs | Perovskites
---
Speakers & Exhibitors include:


And many more…
For the most accurate up-to-date list of participants please click here
---
Full Agenda
Content will also be available on-demand after the event.

CET
Central European Times (CET).
2:00pm
Komori Corp | Micro bumps by gravure offset printing method
02:05pm
Zinergy UK | Printded Batteries: Towards R2R Scale-up
02:10pm
DP Patterning | R2R FPCB production technology.
02:15pm
INM-Leibniz Institut | Flexible transparent conductive coatings by electrospinning
02:20pm
Fraunhofer IZM | E-Textiles: Adhesive Bonding for electronics integration in textiles
02:25pm
University of Coimbra | Stretchable Microchip-Integrated Electronics Based on Liquid Metal
02:30pm
Fujikura Kasei | Creating Fully Stretchable Medical Devices with Silicone-based AgCl Inks
02.35pm

Networking Break – Meet The Speakers
03:00pm

Fraunhofer IAP | Ultra precise EHD-Jet printing of quantum dots.

03:05pm
DoMicro | Perspectives For Electro-Hydro-Dynamic Printing On Nanoscale
03:10pm
Coatema | The pathway to digital fabrication of printed electronic products
03:15pm
Keiron Printing Technologies | Digitally Printing Highly Viscous Contents with Laser-Induced Forward Transfer
03:20pm
Nano-Ops | The Future of Printed Electronics is Here; Print Electronic Components and ICs Using a Single Platform
3.25pm
Networking Break – Meet The Speakers
03:45pm
Joanneum Research | R2R-NIL for realizing highly innovative use cases – from bionics to medical diagnostics
03:50pm
Meta Materials | Multifunctional metasurfaces for everyday printed electronic functional films
03:55pm
Pulse Forge | Use of Photonic Soldering to Enable High Quality Connections on Temperature Sensitive Substrates
04:00pm
DuPont Teijin Films UK Ltd | Polyester film solutions from DTF meeting changing needs in flexible electronic markets.
04:05pm
Ynvisible | Established and new applications of printed e-paper displays
04:10pm
InnovationLab GmbH | Current R&D at InnovationLab
04.15pm

Networking Break – Meet The Speakers
04:35pm
Henkel | Pad-printing Silver Inks – Example of 5G Antenna Applications
04:40pm
Danish Technological Institute | Your copper nanoparticle production scale up
04:45pm
CondAlign | Adhesive ACF for efficient room temperature bonding in FHE
04:50pm
Brilliant Matters | Recent advancements in organic photovoltaics
04:55pm
DuPont MicroCircuits | Demonstration of high frequency 5G modules using LTCC
05.00pm

Networking Break – Meet The Speakers
05:20pm
Quad Industries | Wearable skin patches as a key enabler for digital health
05:25pm
Seristampa | Evolution of touch surfaces – Haptic feedback
05:30pm
Kimoto | Next-generation 3D Formable Substrates
05:35pm
Panacol | InMold Electronics
05:40pm
Panasonic | Soft, Stretchable and Functional: Printed Hybrid Electronic Demonstrators made with High-Temperature Tolerant Stretchable Substrate
05:45pm
LiquidWire | Using stretchable Metal Gel strain sensors to digitize 3D body motion and flex
05:50pm
ACI Materials | Stretchable Electronic Materials that Meet the Demands
05.55pm

Networking Break – Meet The Speakers
06:10pm
Fraunhofer ILT | Laser processing of printed electronic layers
06:15pm
Sun Chemicals | Critical to Performance Metrics of Functional Materials for IME
06:20pm
Kent Displays | VersaNote: A Roll-to-Part, Flexible Electronic Device
06:25pm
The University of Texas at El Paso | Additive Manufacturing of Elastomer, Ceramic and Metal Multi-functional Structures
06:30pm
Boeing | Why Boeing is interested in printed electronics and what value it has to Boeing.
06:35pm
SmartKem | TBC
06:40pm
IDS | High Output Rate Aerosol Printing for High Conductivity Printed Electronics
06.45pm

Networking Break – Meet The Speakers – Day ends
Places are limited so please register now.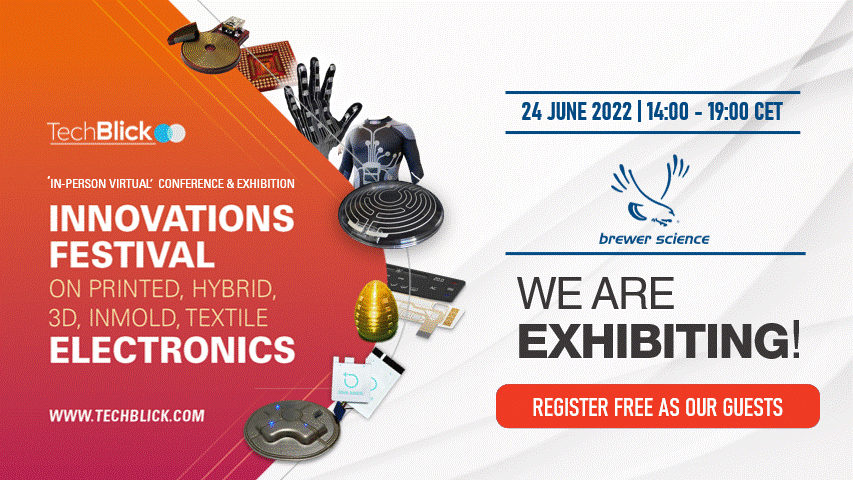 Check out how the LIVE 'In-Person Virtual'
networking & exhibition works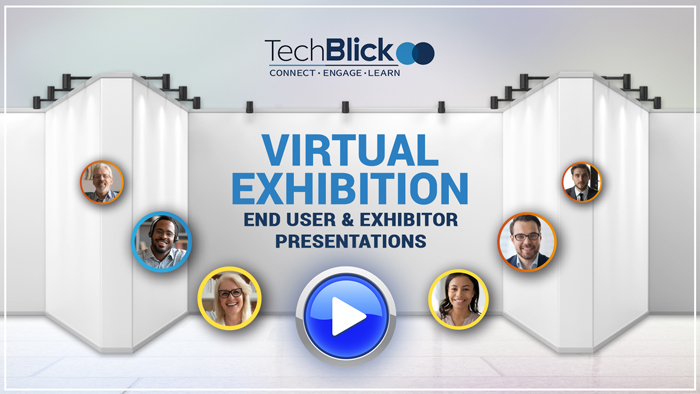 We look forward to meeting you
on 24 June | 2.00pm – 7.00pm CET
Join Brewer Science at the Global Conference & Exhibition
in Eindhoven 12-13 October 2022
at "The Future of Electronics RESHAPED"
---
Where the World's
Printed Electronics Industry Connects.

Learn more at www.TechBlick.com/ElectronicsReshaped
Printed Electronics, Smart Devices, SDF, Smart Devices and Printed Electronics Foundry