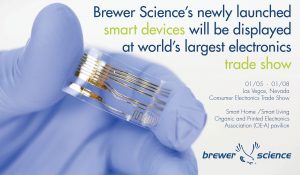 Las Vegas, Nevada – January 3, 2022 – Brewer Science, Inc., a global leader in developing and manufacturing next-generation materials and processes for the microelectronics and optoelectronics industries, will be presenting select items from its Smart Devices and Printed Electronics Foundry at the world's largest electronics trade show, the Consumer Electronics Show in Las Vegas, Nevada, January 5th thru 8th.
As CES returns to Las Vegas, the show will display the next wave of innovation that will shape 2022 and the economy of tomorrow. The show is set to feature a plethora of exhibitors advancing two of the most compelling technology megatrends of the future: intelligent automation and the evolution of the metaverse.
At the Consumer Electronics Show, several items from Brewer Science's innovative portfolio will be on display in the "Smart Home / Smart Living" section of CES, within the Organic and Printed Electronics Association (OE-A) pavilion.  This will include Brewer Science's newly released InFlect® 4-Pixel Temperature Sensor Evaluation Kit, as well as other popular sensor platforms, including its InFlect® 300-mm, 100-Pixel Temperature Sensor Array and the InFlect® Bend / Strain Sensor – all newly launched for 2022.
"Our unique marriage of material expertise alongside the production of cutting-edge devices allows us to not only offer a complete solution to our customers but makes events like the Consumer Electronics Show highly engaging. We are able to showcase our abilities to other industry leaders and synergistically develop the future of smart devices and printed electronics," states Robert Frueh, Senior Manager of Business Development – Emerging Technologies at Brewer Science. "We continue to expand our leadership into printed and flexible hybrid electronic services. Even with four decades of extensive and diverse experience, we are always looking for ways to further develop and improve our processes to ensure our customers are getting the highest quality products and services."
Brewer Science recently expanded its capabilities in its Smart Devices and Printed Electronics Foundry to include a full range of electronics platforms, including sensors and systems, that are easily integrated into existing processes and products, such as printed temperature sensors, water quality sensors, and condition-monitoring sensors. The complete end-to-end services range from small-scale prototyping and sensor manufacturing to foundry services, user interface design, security protocols, and data-to-cloud capabilities.
If you are unable to attend the conference but wish to learn more about the Brewer Science Smart Devices and Printed Electronics Foundry, you can schedule a meeting with an expert today by submitting a request in the contact form on their website.
About Brewer Science
Brewer Science is a global leader in developing and manufacturing next-generation materials and processes that foster the technology needed for tomorrow. Since 1981, we've expanded our technology portfolio within advanced lithography, advanced packaging, smart devices, and printed electronics to enable cutting-edge microdevices and unique monitoring systems for industrial, environmental, and air applications. Our relationship-focused approach provides outcomes that facilitate and deliver critical information. Our headquarters are in Rolla, Missouri, with customer support throughout the world. We invite you to learn more about Brewer Science at www.brewerscience.com.
###
Company Contact:
Tracy Jenkins
Tel: (US) +1.573.364.0300, ext. 1427
Email: tjenkins@brewerscience.com
Sensors, Press Releases, Trade Shows, SDF