This past summer has been one of the most interesting and educational summers of my life. I finished my junior year studying electrical engineering at Missouri University of Science and Technology when I received an email about an internship opportunity at Brewer Science. Brewer Science is an international company based in Rolla, MO. They are known for their research and manufacturing of materials used in the semiconductors, microelectronics, and smart devices industries.
The position was for a Printed Electronics Intern based in Springfield, MO, where I attend most of my classes. Soon after I applied and interviewed, I was offered the position. I could not have been happier! I knew the kind of work that Brewer Science is involved with, and I was excited to be a part of it!
As a printed electronics intern, I have the privilege of working alongside scientists and engineers who develop processes to print electronic circuits and sensors onto flexible substrates. It is very interesting to see everything that can be done with printed electronics and all the challenges that come along with it. It is also interesting to see the entire process of developing a device. Everything from initial design to manufacturing and final application is done under this roof, and being a part of it is very exciting!
The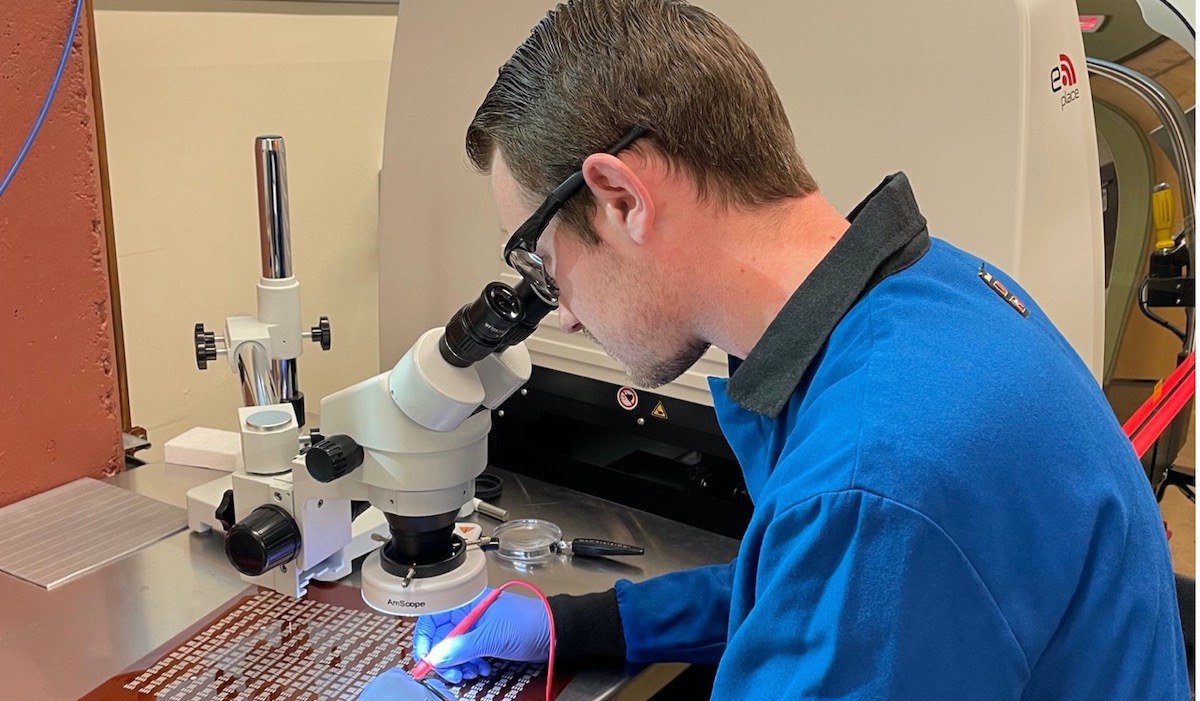 best part of being an intern at Brewer Science is that I am treated more like an engineer than a traditional intern. I am part of the engineering meeting, where we discuss the issues we may be having and how best to solve them. During these meetings, my voice and input are heard, not pushed aside as worthless ideas of a student. The feedback I receive during the meetings and the results I observe while carrying out the decisions helps me learn more about physics and chemistry and help me develop a better problem-solving mindset.
I knew a little bit about Brewer Science before starting my internship, but I had no idea how innovative and supportive the company culture was until I started. We are all encouraged to learn more about our industry and the company. Brewer Science has a "Walk a Mile"
Program that allows employees to shadow other employees to learn more about the different areas and projects of the company.
We are also encouraged to have "10% Projects," where we take 10% of our time to research a topic of our interest or work on a small project that we are interested in. One of my favorite things is how information is not heavily compartmentalized. I have never asked a question about a project and been told that it was none of my business. I think that this coupled with the Employee Stock Ownership Program, is the reason Brewer Science has been awarded a Top Workplace award nine times.
I have learned a lot since I started last summer. I learned about research and development in the semiconductors industry. I also learned about what I value in a company. I know now that I want to work somewhere with similar company culture as Brewer Science after graduation. I would recommend that any college student consider interning at Brewer Science. Interning here has taught me so much and has shown me what I want to look for in a workplace.
Learn more about internships and other career opportunities at Brewer Science.
This blog first appeared on 3DInCites.
Printed Electronics, Internships