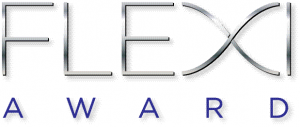 Brewer Science has established a company culture that fosters
creativity and innovation
June 23, 2017 – Monterey, CA – On June 20, Brewer Science was honored with a FLEXI Award for Technology Leadership in Education. The FLEXI Award was presented by FlexTech, a SEMI Strategic Association Partner, at the 16th Annual Flexible and Printed Electronics Conference and recognized Brewer Science's significant ongoing contribution to the flexible hybrid electronics industry through education that promotes internal corporate workforce development.
Inspiring, nurturing, and developing prospective innovators is vital to the future of technology.  As a result, for more than 30 years, the Brewer Science Global Intern Program has been providing mentoring and learning opportunities for students with a desire to apply their science, technology, engineering, and math (STEM) education.  At Brewer Science, high school students to doctorate-level university students from across the world work side-by-side with employees to make learning a hands-on experience in a wide range of functions within the company.  Along with the hands-on experience, there are also opportunities to learn through Brewer Science–designed workshops, which cover a wide range of topics such as "Fostering Innovation" and "Leading to Empower."  Remaining at the forefront of technology is a hallmark of Brewer Science's culture, and that includes providing an environment which perpetuates creativity and innovation.
Brewer Science was honored to receive the FLEXI Award for Technology Leadership in Education Award.  This year's award nominations were evaluated by a distinguished panel of industry and consortium executives. For a list of previous recipients, visit http://www.semi.org/en/flextech-sig-flexi-award-winners.
Learn more about Brewer Science at www.brewerscience.com, follow us on Twitter at @BrewerScience, like us on Facebook at http://www.facebook.com/BrewerScience, and subscribe to our blog at http://blog.brewerscience.com/
About Brewer Science
Brewer Science is a global technology leader in developing and manufacturing innovative materials, and processes for the fabrication of semiconductors and microelectronic devices. As a NextFlex founding member, Brewer Science continues a strong tradition of technology leadership through its devices that utilize unique materials and enable viable resource monitoring for enhanced quality of life. With its headquarters in Rolla, Missouri, Brewer Science supports customers throughout the world with a service and distribution network in North America, Europe, and Asia. We're creating technology that moves the world. Learn more at http://www.brewerscience.com.
About FlexTech 
FlexTech, a SEMI Strategic Association Partner, is focused on growth, profitability, and success throughout the manufacturing and distribution chain of flexible hybrid electronics, by developing solutions for advancing these technologies from R&D to commercialization. Visit FlexTech at www.flextech.org.
###
For more information, contact:
Name: Loretta Wallis
Title: Corporate Relations Manager
Brewer Science
Tel: (US) +1.573.364.0300
Email: mwallis@brewerscience.com
Doyle Edwards @brewerscience talks on the company's excitement over winning the FLEXI Award for Technology Leadership in Education #FLEX2017 pic.twitter.com/UfDTOZXFpi

— 2017 FLEX Conference (@flexconf) June 21, 2017
FLEXI, 2017, Awards