April 16, 2018 – Baltimore, Maryland – On March 21, 2018, NASBITE International honored 31 U.S. companies that export goods and services during the 2018 National Small Business Exporter Summit in Baltimore, Maryland.  Companies from 24 states were recognized as outstanding exporters in their respective states as part of the second anniversary of these awards.
"Job creation is a top priority nationally and these small- and medium-sized businesses are growing rapidly, opening new export markets and producing new jobs in support of economic growth," said Tammy Marquez-Oldham, NASBITE International's president. "It is therefore a pleasure to honor these companies. They are at the forefront of job creation and exemplars for other businesses who are considering the rewards of exploring new international markets."
NASBITE International created these awards, along with the National Small Business Exporter Summit, as a way to bring top exporters from small- and medium-sized businesses together to share best practices and lessons learned.
Awardees at the summit are as follows:
ServerLIFT, Arizona
SnowPure Water Technologies, California
ACMT, Inc., Connecticut
Kira Labs, Inc., Florida
AdEdge Water Technologies, Georgia
Blue Planet Surf Gear, Hawaii
Hess Pumice, Idaho
Mantis, Illinois
Diamond V, Iowa
Kuder, Inc., Iowa
Lectrodryer, Kentucky
Alcom, LLC, Maine
Marlin Steel, Maryland
Stress Indicators, Maryland
NuStep, LLC, Michigan
Brewer Science, Inc., Missouri
The Milky Whey, Montana
Relyco, New Hampshire
Flow Sciences, Inc., North Carolina
ImmunoReagents Inc., North Carolina
Otto Environmental North America, North Carolina
Venture Products, Inc., Ohio
Davenport Aviation, Inc., Ohio
Zeigler, Pennsylvania
Klinge Corp., Pennsylvania
Morrison Textile Machinery Co., South Carolina
Des-Case Corporation, Tennessee
Apfelbaum Industrial, Inc., Texas
GateKeeper Security, Virginia
CONNOILS, LLC, Wisconsin
Lucigen Corporation, Wisconsin
American companies are nominated as honorees for the National Small Business Exporter Summit by members of NASBITE International and by the nation's District Export Councils.  Demonstrations of exceptional export growth and an innovative approach to international marketing are significant factors in the selection of nominees.
Brewer Science was recognized as an outstanding exporter representing the state of Missouri.  Under the leadership of founder and President Dr. Terry Brewer, Brewer Science has become a major Missouri employer designing and manufacturing original technology products since 1981.  Brewer Science specializes in technology that enables the creation of products such as smartphones, tablet computers, cameras, and games, among other electronic devices.
Click Here to View Certificate
For more information, contact Loretta Wallis, corporate relations manager at (573) 364-0300 or mwallis@brewerscience.com.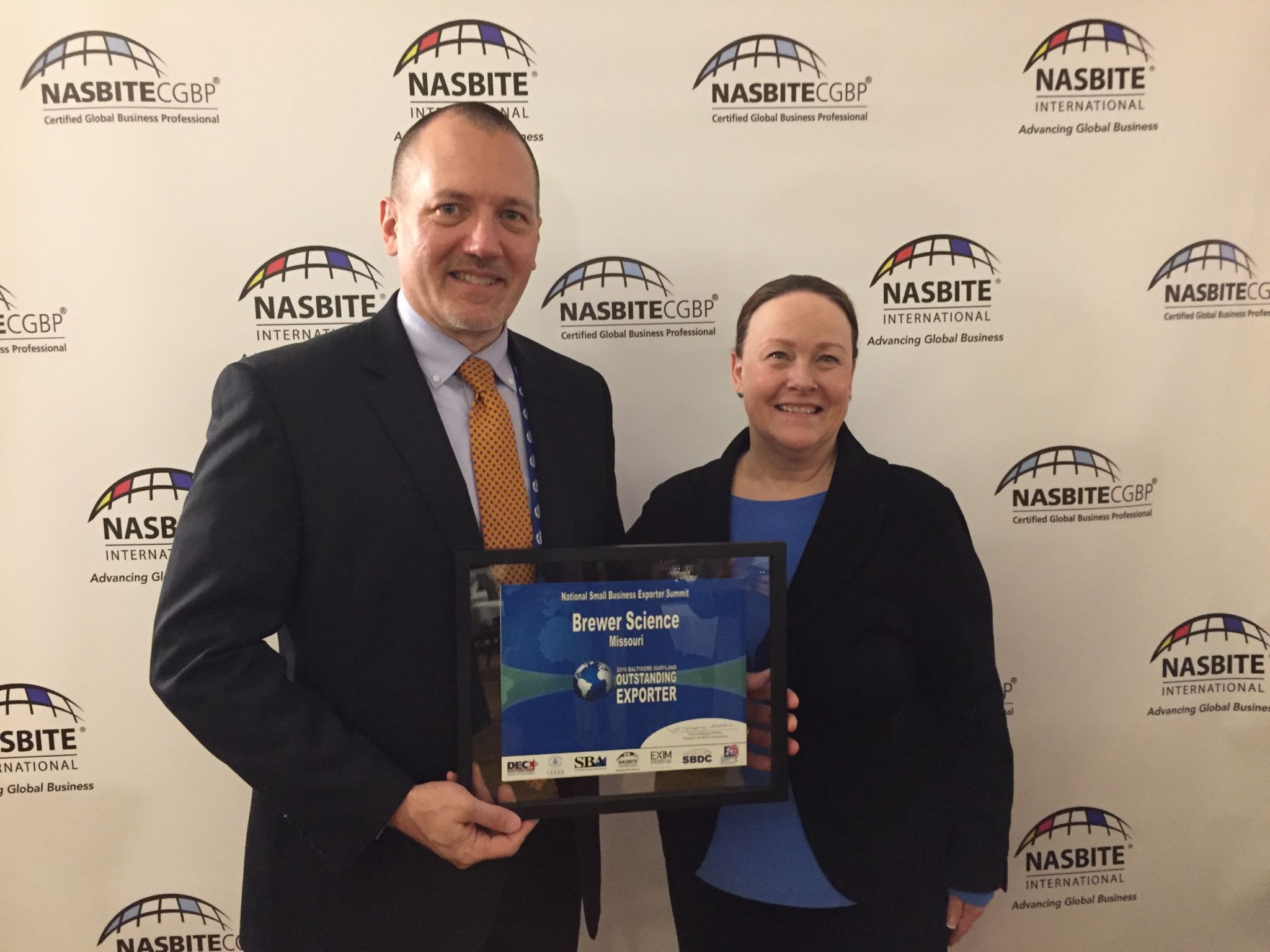 Director of Government Relations for Brewer Science, Doyle Edwards, is presented with the "Outstanding Missouri Exporter Award" by International President of North America Small Business International Trade Educators, Tammy Marquez-Oldham.
About Brewer Science
Brewer Science is a global technology leader in developing and manufacturing innovative materials and processes for the fabrication of semiconductors and microelectronic devices. With its headquarters in Rolla, Missouri, Brewer Science supports customers throughout the world with a service and distribution network in North America, Europe, and Asia. Learn more about Brewer Science at www.brewerscience.com, follow us on Twitter at @BrewerScience, like us on Facebook at http://www.facebook.com/BrewerScience, and subscribe to our blog at http://blog.brewerscience.com/. 
About NASBITE International
NASBITE International is a non-profit 501(c)3 corporation organized under the laws of Ohio. Established over 30 years ago as an association of North American Small Business International Trade Educators (NASBITE), NASBITE International has become the leading U.S. organization supporting the training and education in the field of global business. It is a professional organization of educators, trainers, service providers and practitioners with a mission "to advance global business practice, education and training." NASBITE International is also the steward of the Certified Global Business Professional (CGBP) designation, a professional credential that signifies knowledge in international trade across four key domains (Global Business Management, Global Marketing, Supply Chain Management, and Trade Finance). For more information about the National Small Business Exporter Summit, visit  https://nasbite.org/conference2018/exporters-summit/. For more information about NASBITE International, contact Kathy Demarco, executive director, at (443) 640-1064 or kathy.demarco@nasbite.org
###
For more information, contact:
Loretta Wallis
Corporate Relations Manager
Brewer Science
+1.573.364.0300
mwallis@brewerscience.com
Awards, NASBITE International, brewer science