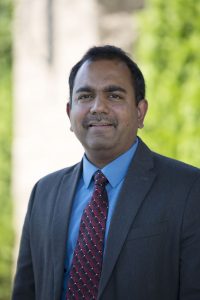 July 13, 2017 – Rolla, Missouri – Brewer Science is pleased to announce the addition of Dr. Srikanth (Sri) Kommu to its senior executive leadership team.  As an Executive Director, Dr. Kommu will be responsible for running the semiconductor business.
Dr. Kommu has over 20 years of stellar leadership experience in the semiconductor industry. He is very well known as a visionary leader who is passionate about solving tough problems, adding significant value to the technology industry and making a positive change to the world.
Dr. Kommu began his career as a research scientist and has most recently served as the Chief Technology Officer (CTO) and Senior Vice President (SVP) at MEMC/SunEdison Semiconductor.  As CTO and SVP, Dr. Kommu strategically defined and flawlessly executed highly differentiating product, capability, and cost roadmaps. He has also been serving as an Advisory board member at Washington University since 2012, and worked at Intel and SUMCO earlier in his career.
Dr. Kommu has completed his executive General Management Program from Harvard Business School, received his Doctorate and Masters degrees in Chemical Engineering from Washington University, and received his Bachelors degree in Chemical Engineering from the Indian Institute of Technology.
Dr. Kommu says that the "highly talented people and the innovation-culture at Brewer Science provide the company its competitive advantage, and Brewer Science is better positioned than ever before to supply high-value products to its customers, enabling the growth of the technology industry."
Learn more about Brewer Science at www.brewerscience.com, follow us on Twitter at @BrewerScience, like us on Facebook at http://www.facebook.com/BrewerScience, and subscribe to our blog at http://blog.brewerscience.com/
About Brewer Science
Brewer Science is a global technology leader in developing and manufacturing innovative materials, and processes for the fabrication of semiconductors and microelectronic devices. With its headquarters in Rolla, Missouri, Brewer Science supports customers throughout the world with a service and distribution network in North America, Europe, and Asia. Learn more at http://www.brewerscience.com.
###
For more information, contact:
Name:  Loretta Wallis
Title:     Corporate Relations Manager
Brewer Science
Tel: (US) +1.573.364.0300
Email: mwallis@brewerscience.com
2017, Executive