Nearly one year after becoming the semiconductor industry's first Certified B CorporationTM by meeting the highest standards of social and environmental responsibility, Brewer Science still finds itself faced with a number challenges associated with upholding the B CorpTM mission. Following are five main challenges we are working to tackle in our ongoing pursuit to fulfill the B Corp mission.
Establishing Documentation Processes
Establishing documentation processes that align with the B Corp impact areas is one of the most fundamental areas for improvement and is an experience you can share with other new B Corps, including Brewer Science.
While Brewer Science already had established detailed documentation processes for quality control standards and materials, we lacked procedures to document other facets of the company critical to the B Corp mission including community impact initiatives and employee development opportunities. Although Brewer Science already had several other programs in these areas, we discovered that aspects such as volunteer hours weren't easily accounted for in the B Corp certification without a process for reporting them.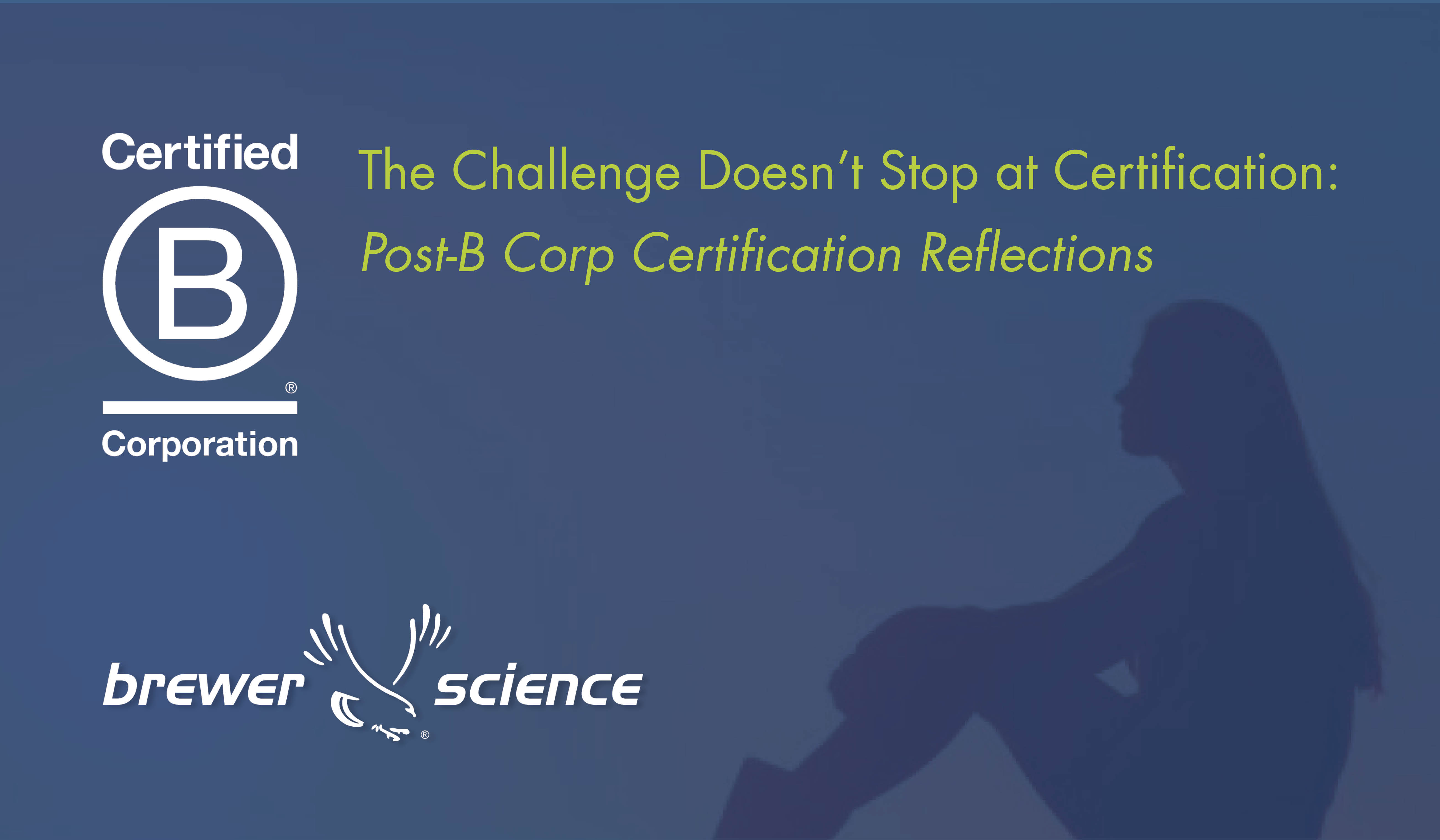 For our three-year recertification, we are establishing programs to collect this information. In January 2022, Brewer Science launched a volunteer program that encourages employees to participate in B Corp communities, offers incentives to them to volunteer, and collects information about the hours they spend contributing to the various causes that interest them. Since our manufacturing process is detailed and thorough, we can adapt that structure and process into other areas, such as the volunteer program, to create a more well-established tracking tool.
A tip to new B Corps or those seeking B Corp certification: Find ways to document your company's current programs so that they align with the B Corp mission. Chances are you are already pursuing B Corp values within your company, so make sure this is evident in written company policies and have a method to track and document progress towards those initiatives and their completion.
Connecting with other Certified B Corporations
One of the many benefits of becoming a Certified B Corporation is that the designation allows you to connect with other companies with a shared interest in using business as a force for good. Brewer Science was excited about the opportunity to network with these companies but soon found this to be a challenge after certification. The reason is that not only was Brewer Science the first – and is thus far the only company in the semiconductor industry to achieve the certification – but also because ways to connect with other B Corps outside of the semiconductor industry weren't readily available (or so we thought) as there are only seven other B Corps in Missouri, where Brewer Science is headquartered.
One platform that B Corp members can use to connect with other B Corp leaders worldwide is the B Hive. Members can find relevant resources for making the most of their certification, search for and offer B Corp products and services, take advantage of exclusive discounts for B Corps and their employees, and collaborate with peers across the movement to amplify impact.
Users must dive deep to find specific threads for their unique job role. For example, a Marketing and Communications channel enables marketing professionals to connect with others in their field to help exemplify the B Corp mission within their brand. There is also a Human Resources channel for HR professionals to communicate ways to promote the importance of diversity, equity, and inclusion in their recruitment and hiring practices. However, it can be difficult for individual employees to connect outside of these specific roles.
Some B Corp company leaders take it upon themselves to reach out to company contacts through social media platforms, such as LinkedIn. Others established group chats on Slack for a more inclusive conversation. While the B Hive is a great resource to access best practices or examples of policies, it doesn't provide a collaborative platform for newly certified B Corps to engage in a more personal way. We are working to find and make these important connections through other communications channels.
Encouraging engagement among employees
For employees to participate in the B Corp mission requirements, they must understand what the certification means to them, the company – and the world – a feat we found challenging for an international corporation. The B Corp mission encompasses many different aspects, so finding a way to articulate the value required a few different strategies:
Tangible programs
We created internal programs, such as the volunteer program, that offer employees a hands-on way to contribute to the certification and also see the benefit within their own lives, as they get to participate in a cause that is important to them and support their communities.
B Corp Internal team
We established an internal B The Change Team, a group of employees from various departments at Brewer Science to bring a diverse view on strategies to engage employees. The team sends out a monthly newsletter with relevant news and ways to be involved with the B Corp mission while sharing it with their departments.
Onboarding Presentations
Our new employee orientation has a special presentation about what it means to be a Certified B Corporation and how new employees can participate in and support the mission. New employees are encouraged to engage in an interactive way – to ask questions and exemplify the B Corp values from day one.
Celebrate B Corp Month or your B-Day
In honor of B Corp month in March, we plan to engage employees through awareness and activities coordinated with the B the Change Team. Each week of March will focus on an B Corp Impact Area.
As employees start to articulate the value of B Corp and sharing it within the industry, we find different opportunities to share our experiences and insights. For example, Matthew Beard, Executive Director of Strategic Planning, Management Systems, and Sustainability at Brewer Science, presented Attracting and Retaining the Best Talent and the Purpose Driven Organization the Workforce Development Pavilion at SEMICON West 2021.
Supporting social and political initiatives
Brewer Science is eager to support the social and political initiatives of which Certified B Corporation is a part; however, it requires a process that didn't exist before. With customers, suppliers, and the international political arena in mind, we established a corporate review process to evaluate each initiative. This allows company directors to evaluate these initiatives so they can advocate for the B Corp mission.
Since the B Corp impact areas address diverse topics, we narrow our focus so we can deliver the greatest impact rather than spreading ourselves too thin. For example, the HR team's focus on Diversity, Equity, and Inclusion (DEI) is centered on internal training since starting internally and allowing employees to improve their understanding of DEI will reflect the B Corp mission and pave the way for increasing other DEI initiatives in the future.
Providing a pathway to other Missouri-based Benefit Corps
The B Corp certification is a third-party certification administered by the non-profit B Lab™ based partly on a company's verified performance on the B Impact Assessment. On the other hand, a benefit corporation is a legal structure for a business, like an LLC or a sole proprietorship. Benefit corporations are legally obligated to pursue positive stakeholder impact alongside profit. Some companies are both Certified B Corporations and benefit corporations, and the benefit corporation structure fulfills the legal accountability requirement of B Corp certification.
Missouri is one of only four states in the U.S. that currently does not offer a benefit corporation business structure. Brewer Science pursued a Certified B Corporation after several years of unsuccessfully lobbying Missouri state officials to establish a benefit corporation status. The lack of state recognition as a benefit corporation is likely an obstacle to other Missouri companies looking to become B Corp certified. We were surprised recently when members of Missouri General Assembly contacted us about re-evaluating the designation after Dan Brewer, Executive Vice President at Brewer Science, delivered the keynote speech at the Technology Innovation Summit.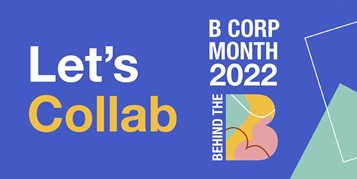 The theme for this year's B Corp Month in March is "Behind the B." Companies will share the stories behind their B Corporation certifications.
Dan discussed the many innovative advancements in which the company participates, including how becoming a Certified B Corporation has ensured a pathway of continuous improvement – a promise that speaks volumes to customers, suppliers, and community partners. As more Missouri companies become B Corps, we hope to amplify our local efforts, such as establishing a B Local team, and join other regional initiatives.
Becoming a Certified B Corporation is an ongoing effort with a focus on continuous improvement. It's not simply a check the box or a certification to hang on the wall and a move on to something else achievement. It requires constant attention and development, not only for the three-year accreditation, but for continually refining processes, strengthening procedures, and collaborating within the industry to promote a business as a force for good.
We never anticipated these five challenges when we began the process to become certified. However, we pleased to have found strategies to overcome them. The benefits of certification far outweigh any obstacles we have faced along the way. By sharing our experience, we hope other companies seeking to achieve B Corp certification will feel more prepared to meet any challenges with confidence.
Learn more about the Brewer Science Journey to becoming Certified B Corporation, or start your own B Corp journey by visiting https://www.bcorporation.net/en-us/.
B Corp