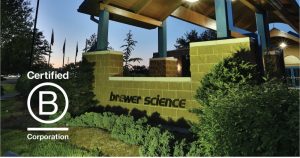 Brewer Science presents best practices for workplace culture at SEMICON West
Brewer Science shares "purpose-driven" culture is the key to creating a highly desired workplace
San Francisco, California–December 7, 2021– Brewer Science, Inc., a global leader in developing and manufacturing next-generation materials and processes for the microelectronics and optoelectronics industries, will be presenting its trailblazing efforts as a Certified B Corporation™ at the SEMICON West annual conference in hopes to inspire a more sustainable and inclusive industry.
In May 2021, Brewer Science became the first Certified B Corporation in the semiconductor industry. The certification accredits the company for meeting the "highest standards of corporate social and environmental performance, transparency, and accountability to all their stakeholders." An extensive audit evaluates all facets of the company, determining areas for improvement in the scope of five Impact Areas: Governance, Workers, Community, Environment, and Customers.
"Brewer Science was founded on the philosophy that directly aligns with the B Corp purpose of 'using business as a force for good.' We have programs in place that exemplify our commitment to our people, our customers, and the community. By sharing and collaborating with our supply chain counterparts, together we can create a more sustainable and inclusive industry," states Matthew Beard, Executive Director of Strategic Planning, Management Systems, and Sustainability at Brewer Science.
Matthew Beard will be presenting at the SEMICON West conference with a talk titled, "Attracting and Retaining the Best Talent and the Purpose Driven Organization."
White at SEMICON West, Rama Puligadda, Kim Arnold, and Alex Smith sat down with Francoise von Trapp with 3D Incites to talk on her podcast about the company's growth, its strength in culture as they navigated through the pandemic, about the company's efforts to foster tenure, helping employees to grow in their career paths, and focusing on diversity, equity and inclusion. You can listen to the podcast here.
The 2021 SEMICON West conference is held December 7th thru 9th at the Moscone Center in San Francisco, California. The conference unites the entire extended electronics supply chain, with the mission "to see what's next and discover the latest innovations driving industry growth." Brewer Science is hosting a presentation at the event to encourage other tech innovators to consider B Corp certification for their companies to pave a pathway for continuous improvement within the industry.
You can learn more about Brewer Science by visiting their website: www.brewerscience.com, or schedule a meeting with an expert by emailing, info@brewerscience.com.
About Brewer Science
Brewer Science is a global leader in developing and manufacturing next-generation materials and processes that foster the technology needed for tomorrow. Since 1981, we've expanded our technology portfolio within advanced lithography, advanced packaging, printed electronics, and smart devices to enable cutting-edge microdevices and unique monitoring systems for industrial, environmental, and air applications. Our relationship-focused approach provides outcomes that facilitate and deliver critical information. Our headquarters are in Rolla, Missouri, with customer support throughout the world. We invite you to learn more about Brewer Science at www.brewerscience.com.      
### 
Company Contact:
Tracy Jenkins
Tel: (US) +1.573.364.0300, ext. 1427
Email: tjenkins@brewerscience.com
Press Release, SEMICON West, Certified B Corporation, B Corporation